Testimonials
Top Dog Walking Services takes special care to understand the unique needs of each of our clients to design custom solutions that exceed expectations. We are proud of the work we do and would like to share these testimonials from our clients:
Fred Abbott - owner of Madison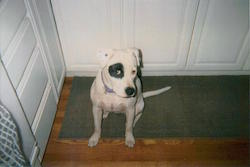 "We were very pleased that Larry was able to walk our dog, Madison. She is very distrustful of others outside our family and can be handful on her walks. She's a 55lb Pit Bull. With Larry she is very obedient and calm, we wondered if he walked the right dog, but we've seen them together and she is a good girl. We love her very much. She's our baby and we don't trust her with just anyone. Larry has a way with dogs and people too."
- Fred and Susan Abbott
---
Aliya Lee - owner of Bogey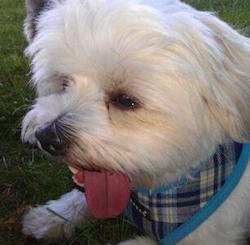 "I've known Lori for over 2 years now, and I wouldnt trust anyone else to watch my baby boy. She's very good with animals and people. She is very dedicated and knowledgeable when it comes to the care and well being of my Bogey. I left him with her for 4 days and 3 nights and she even sent me text messages every once in awhile to show me and update me on the well being of my dog. I never once worried and was able to enjoy my time away from him, because I knew he was in good hands with Lori and Larry, and their dog Rocky. Lori not only takes the time to walk Bogey and Rocky together but she also takes them to the dog park to play. Bogey and Rocky are now best buds and its because of how well Lori takes care of Bogey, like he is her own. I also know that Bogey will be well behaved because Larry used to train dogs himself. Bogey now loves Larry, Lori and Rocky like family. I can't think of any better babysitters for your precious dog."
- Aliya
---
Aditi Dhagat - owner of Fletcher, Finnegan, and Fiona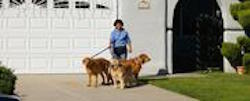 I really love the way my dogs get excited when Lori arrives. Even Fletcher, who used to not want to leave the house if he knew I am at home, is ready for an adventure with Lori.
Thanks for doing a terrific job!
- Aditi
---
Usha Ganesh - owner of Max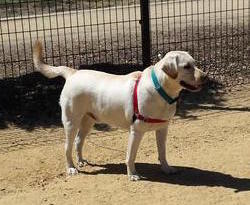 Larry at Top Dog Walking Services has been taking our dog Max out on daily walks for a few months now and we are impressed with his professionalism and that he goes beyond what we expect out of a dog walker. He is not just a dog walker, he always does a great job of looking after the house even though that is not expected out of him. He even once to tell me I forgot to close my garage door. After every walk we get an email telling us how Max did on his walk. Our dog Max loves Larry, and we come home to a happy dog.
- Usha Ganesh
---
Chuck Paradis - owner of Tango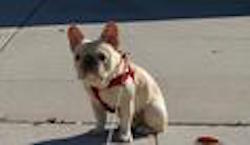 My little man "Tango" who has been part of my life for over two years now. I don't usually trust anyone else other than myself due to the special needs a French Bull Dog carries. I have found that Top Dog Walking Services fully understands those needs and when called upon, I feel confident that Tango's needs are upheld. Thank you "Top Dog" for all your attention.
- Chuck Paradis
---
Tim Stanley & Stacy Stern - owners of Sheba, Mao, and Rio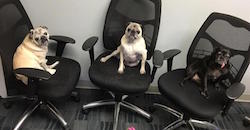 Very happy to recommend Top Dog Walking Services. Larry is very professional and responsible. He genuinely cares about the well-being of our precious pugs. We have three pugs, two of which are seniors. Larry does an excellent job walking, feeding, administering medicine and playing with them when we are away. He keeps us updated on how they are doing. The pugs love him and look forward to his visits. We really appreciate his assistance.
- Tim Stanley & Stacy Stern